eNewsletter
Links

Click RSS logo above
to subscribe to this blog!
Topics
Archives
Resources
Christmas Special
20% DISCOUNT ON ALL ORDERS!
Simply enter the Special Coupon Code "Christmas" when checking out.
Shop now! >>
Featured Resource
LEFT BEHIND OR LED ASTRAY?
Examining the origins of the secret pre-tribulation rapture.
Learn More >>
Featured Resource
THE SUBMERGING CHURCH
A closer look at the Emergent Church, its leaders, their teachings and where it is all headed in light of bible prophecy.
Learn More >>
Other Products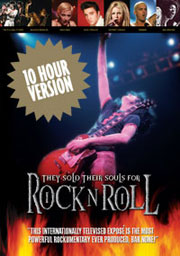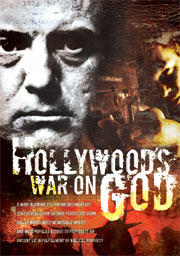 Nov
By Joe Schimmel
On the day of the 2016 presidential election The Sun headline of the day read:
"'SHE LOOKS LIKE A FUTURISTIC NAZI': Outrage as Lady Gaga's bizarre costume at Clinton rally is likened to a Nazi uniform."
The article also noted:
"POP icon Lady Gaga has been slammed for her bizarre outfit while speaking at a Hillary Clinton rally, as social media users likened it to a Nazi uniform." (Source)
What The Sun did not point out is Gaga's past love for Nazi uniforms and her love for David Bowie, who she often emulates with her costumes. Bowie shocked the public more than once by using Nazi symbolism glorying the National Socialists (NAZI) Party, which was responsible for the death of over fifty million people, including the systematic murder of six million Jews.
Continue reading the article here >>
Oct
By Joe Schimmel
"That's when I went to the crossroads and made a big deal…" – Bob Dylan (No Direction Home, Martin Scorsese, 2005)
"I made a bargain with … the Chief Commander … [of] this earth, and the world we can't see." – Bob Dylan (60 Minutes, 2009)
As of October 13, 2016, Bob Dylan can add one more trophy to his impressive worldly accolades: Nobel Laureate. Dylan was just awarded the Nobel Prize in Literature and hailed for having "created new poetic expressions within the great American song tradition." (Source)
Dylan has been dubbed the world's "greatest living poet," the "inventor of folk rock" and "the most important figure in pop-culture history." Rolling Stone magazine called Dylan's song, Like a Rolling Stone, the "number one song of all time."
Continue reading the article here >>
Jul
By Chad Davidson
The following screenshot (click photo to enlarge) is of a reply we sent to rapper Lecrae on his Twitter account. As many Americans were celebrating Independence Day, Lecrae thought it would be a good time to remind everyone about the horrors of slavery. While this, in and of itself, is not a terrible thing to point out to people, the ominous tweet has caught much backlash from fans who also remember the many freedoms we have today.
In fact, fellow artist Joseph Rojas (of Seventh Day Slumber), wrote on his Facebook page:
"It's awesome how our country has come so far! Lecrae is now a millionaire! I'm sure that's what he was trying to say. #OnSomeReal #AllTheWay100 #TheOnlyReasonIcanPostThisIsBecauseImMexican #realTalk #AwhitePersonWouldBeLabeledARacistForThisPost #RacismAliveAndWell #MinoritiesGetAwayWithRacismEveryDay #GetAtMe"
May
By Chad Davidson
While all the fuss about Beyonce's latest visual album, "Lemonade," has been, "Who was Becky with the good hair?", (reportedly speaking of someone her husband committed an extra-marital affair with), one thing that might have been missed was the fact that Beyonce does a spoken word performance where she makes mention of using the Bible as a Tampon!
(Continue reading…)
Dec
By Joe Schimmel
As tragic as it is ironic, on the very page of Rolling Stone Magazine online, where the now deceased Scott Wieland's ex-wife, Mary Forsberg Weiland, laments the fact that a large segment of society encourages their pop idols to live in the fast lane and then glorify their deaths when they crash and burn, Rolling Stone, true to form, links to a montage titled "Scott Weiland: A Photo History of His Wild Life." (Source)
Weiland was found dead on his tour bus just before he was scheduled to go on stage with his band The Wildabouts. Weiland founded and fronted the Stone Temple Pilots, one of the most popular grunge bands of the 1990s and abused drugs throughout his career. Scott Weiland & The Wildabouts' guitarist, Jeremy Brown, died earlier in 2015 at the age of 34 due to "multiple drug intoxication" the day before the release of their album Blaster.
Oct
By Chad Davidson
Brian "Head" Welch, I want you to know that before I began writing this I prayed for you and your family. You may never read this, so I take solace in the fact that God will be listening to my prayers for you and He always answers according to His will. I also spent time praying for the entire band of Korn, who happened to have been, before I knew Christ, one of my favorite bands. I used to listen to you guys before wrestling matches in high school. I would blast it in my car while driving to a party. I even went with a friend to go steal your CD's at the local Target store because I didn't have any money to buy them when I was in middle school.
Continue reading the story here >>
Oct
By Joe Schimmel
Just a month after Justin Bieber made headlines for allegedly groping a Playboy Bunny, and amidst another potential scandal wherein a teen model, by the name of Bailey Scarlett, claimed he hit on her after her drink was allegedly drugged at a party he hosted in Melbourne Australia, he is in the headlines again for his claim to be a Christian. Beiber was baptized last year after a video of racist remarks became public and many wondered if it was simply damage control or a public relations offering. In Bieber's latest potential scandal, with regard to the teen he allegedly hit on after she had allegedly been drugged at his party – whether her drink was drugged or not – do Christians have parties where they serve teens Vodka?
Continue reading the story here >>
Feb
Year after year it appears that the Grammy's and other music awards shows are becoming more and more of a love fest for Satan. Watch Joe Schimmel's review of what has been happening.
Feb
Katy Perry has drawn in millions of unsuspecting, young fans into her web with her seemingly fun loving, innocent, bubble gum persona. But as with so many other leading artists in the satanically dominated music industry, there is far more to Katy Perry than meets the eye, as under her bright persona lies great darkness.
"I don't believe in a heaven or a hell, or an old man sitting on a throne. I believe in a higher power bigger than me because that keeps me accountable…I'm not Buddhist, I'm not Hindu, I'm not Christian…" –Katy Perry, Marie Claire Magazine
The uncut Vimeo version can also be seen on our official Good Fight Vimeo channel:
http://vimeo.com/goodfightmin
Feb
By Chad Davidson
[Editor's Note] With Miley Cyrus back in the headlines (was she ever gone?) due to the recent launch of her Bangerz Tour, we thought we'd share an article based on the Instagram post she shared on her account back in January 2014. Speaking of Cyrus' Bangerz Tour, it has been reported that her management has been flooded with complaints from parents because her show is like a "porn show." (She even simulates fellatio with a Bill Clinton impersonator!) She is also giving away 24k gold-leaf rolling papers (used to make marijuana joints). Miley took to her Twitter account and said the following, "You can't say I didn't warn you…Save your complaints for the McDonalds drive thru when they forget the 'fries with that.'"
***
In early January 2014, Miley Cyrus turned to her Instagram account to let everyone know about Jesus! Don't get too excited though; it is actually to tell others what they should believe about Jesus. Here are the words from the picture that was posted:
"Jesus was a radical nonviolent revolutionary who hung around with lepers hookers and crooks; wasn't American and never spoke English; was anti-wealth, anti-death penalty anti-public prayer (M 6:5); but was never anti-gay, never mentioned abortion or birth control, never called the poor lazy, never justified torture, who never fought for tax cuts for the wealthiest Nazarenes, never asked a Leper for copay; and was a long-haired brown-skinned homeless community-organizing anti-slut-shaming middle eastern Jew."
Older Posts »